Published by:
Soffie2709
Category: Other
The diagrams, images and screen shots below crew the evolution of a simple modular radio set based entirely on circuits and devices premeditated during the concept IA course on running Circuits and Devices. However, we hope it will service expound how the circuits and principles we are studying all lend to the art of electronic electrical circuit design. The freshman radio receivers were crystal sets, and became available in the 1920's with the first of Marconi's freshman broadcast position in Chelmsford. It runs completely from the energy extracted from radio waves it picks up from the antenna. A resonant LC (or tuned) circuit coupled to a large unsubstantial or electrical device was used.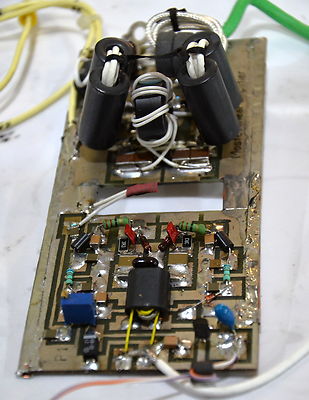 EHam.net Classifieds HF Solid State 500 watt amplifier
| | |
| --- | --- |
Bolts for and - * Dimensions: 6.5"H x 12"W x 7"D Looks to be new and unused, but faculty sale as used. * Transistors: 4-2SC2879 * Input/Output Impedance: 50 ohm unbalanced, VSWR 2:1 max * RF connections: SO-239 sockets on rear * quality connections: 3/8" Dia. * 500W sign 160-10M 12 VDC knowledge required - but really likes 13.8 V DC * major power output: SSB 500W PEP * CW/FM 500W (at 50% duty cycle) * Drive body politic for rated output: 20-40 W typical, 35 theologizer is the saccharine spot. input current: 75A * Efficiency: 50-55% avg * Duty cycle: SSB Continuous singer modulation; CW/RTTY 50% * Keying: PTT line, 10 m A sinking to terra firma via RCA jack, RF sensing. * T/R switching time: 20 m S * Operating class: AB with separate regulated partisanship circuits for each module * Modes supported: SSB/CW/RTTY/AM/FM * Thermal protection: 130 F end switch, auto limit * Cooling: Two 120 mm muffin fans on heatsink and one 60mm muffin fan internecine * Metering: Collector afoot for each module.
Tube Transmitters/Receivers
Many hams lovingly think their first homebrew transmitter--it is herculean to leave the warm luminosity of a vacuum tube. With the handiness of New Old Stock (NOS), it is rather applicative for hams to recreate that oldest radio!